Latest version
Firmware update
Create a support ticket
Technical Support
Requires a myaccount login
Register your zappi
Frequently asked questions about zappi
No, not at all. zappi also works without solar panels as a normal charging station from 7kW to 22kW (infinitely adjustable). Big advantage is that you can always charge safely thanks to load balancing technology. Also, with zappi you can charge more economically thanks to the automatic link to charge with a dynamic energy contract at times when the rate is lowest.
We recommend having your zappi installed by a licensed installer. At least one separate group is required in your fuse box with a type A earth leakage circuit breaker of at least 20A and up to 32A Curve B.
With each zappi, 1 CT for the 1-phase version and 3 CTs for the 3-phase version is/are included.
You can charge in the most economical way with zappi by using dynamic rates. There are several energy suppliers that provide a special contract where you pay a different rate every hour depending on the purchase price. This rate is determined 24 hours in advance depending on consumption, sun and wind and other parameters. Through an automatic link with this purchase price, zappi can decide for you to choose the most favorable rates and delay or start charging. This way you have a full battery every day, but pay significantly less.
In all cases, the limiting factor is the vehicle, the EV. Some EVs cannot be charged with a 3-phase and so can only be charged with a 1-phase. The power supply is also limited by the EV, usually it is 16A, 30A or 32A. If your EV can be charged with 3-phase, zappi has the ability to charge at a low rate by using only the 1-phase. This is a big advantage over other brands, so with our zappi, charging with smaller solar panel installations can be as low as 1.4kW.
1-phase charging range : 1.4 kW → 07 kW
3-phase charging range : 4.1 kW → 22 kW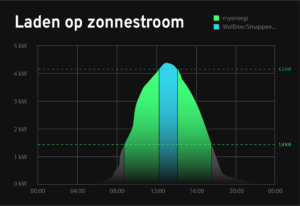 No, when charging with the 3-phase, the rate will be determined by phase with the lowest available power value. The EV can only charge if all phases are the same.
Yes, it then behaves like a standard 1-phase zappi. But, only the 1 CT input will be available. In most cases, it is then necessary to use a Harvi.
NOTE for Belgian users: It is not possible to use a 3-phase zappi on a power network with 3 x 230V without neutral (as still present in some areas in Belgium). Also, if your home has a single-phase connection where the base of the power grid has no neutral (neuter), you can only use a single-phase version.
Yes, you can do that with zappi. The operation is very similar, but make sure you connect the CT sensor(s). These are necessary to take full advantage of the zappi's smart technology. Also, an internet connection (Ethernet or WiFi) is recommended to use the app and myaccount page.
It depends on the installation. You can install zappi by using a circuit breaker in your current main installation and setting a 'Net Limit' to ensure that you don't blow your main fuse. Or you can install zappi from a second installation and connect a sensor that acts as a 'Monitor Limit' to ensure that your second main fuse does not overload in addition to the 'Net Limit'. It is wise to consult your installer for these more complex situations.
A 3-phase zappi connected to a 3-phase system can be installed to charge in an ECO mode using only 1-phase. It is very useful when you want to charge at a low rate to use your surplus in ECO mode. This allows you to charge from as little as 1.4kW of surplus and make maximum use of your own energy generation. Of course, you always have the option to charge faster (up to 22kW) in FAST mode or by using the Boost function.
No.
We are an innovative company and constantly working on new developments. Once V2G / V2H becomes available in the market, we will definitely expand our products to follow this technology. Currently, these technologies are only made available in test phases. Car manufacturers and charging station manufacturers are working closely to roll this out as soon as possible, but there are still many challenges.
For ECO and ECO+ mode, we recommend charging on 1-phase (and it is fully automatic). The advantage is that you can then already charge from 1.4kW of surplus current. The amount of surplus current is measured over 3 phases. The total is then sent to the car via 1-phase, so that the balance of 3 phases on the counter remains 0 (zero). So here it does not matter whether a 1-phase inverter or a 3-phase inverter is used for the solar panels. Even combinations of multiple inverters do not affect the operation of the ECO / ECO+ charging modes.
CTs can be connected to the main connection, the solar panel inverter, a house battery or a subdivision. For a 3-phase zappi, the CTs should be connected to the 3-phase main connection (power grid). This can be wired into the zappi or wirelessly via a Harvi. You cannot connect different types of CTs, they must be installed on the same source. This is different with the 1-phase version of zappi, which can measure 3 different (1 phase) loads (mains, production and/or a house battery for example).
Almost all electric cars can charge 3 phase, 11kW.
Any car that can charge 3-phase can also charge 1-phase.
Any car that can only charge 1-phase can be charged with a 3-phase charge point.