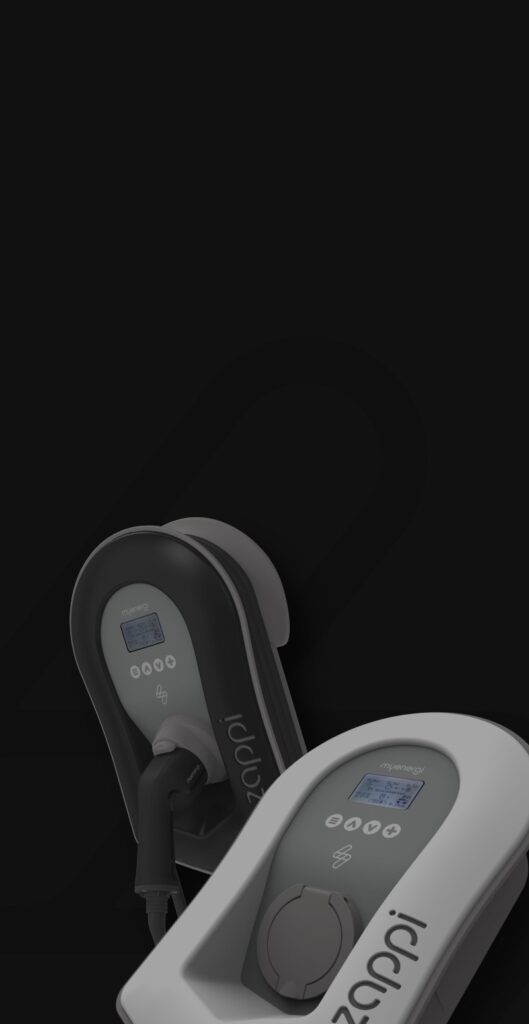 Designed for convenience.
No compromise.
zappi
The adaptive EV charger that takes power from the grid, the sun or the wind.
buy zappi
Find an installer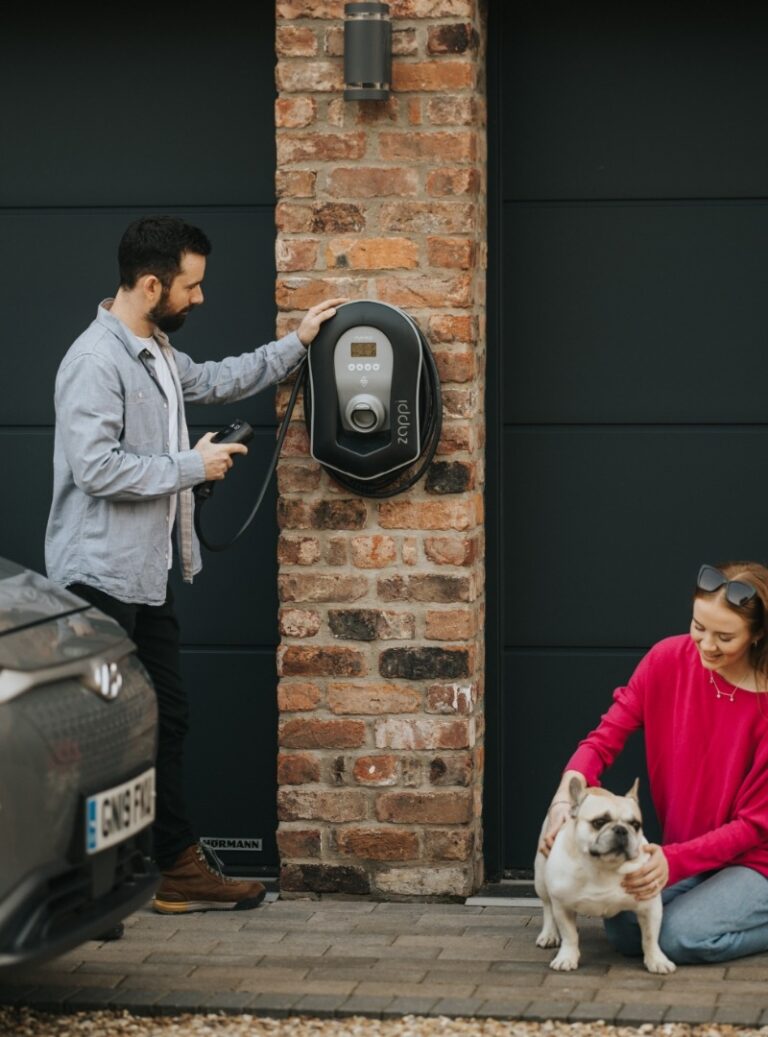 Smart EV charger
Charge your EV with power from the grid, solar or both
You don't need solar panels or wind power to use the zappi. But if you buy it today, you will be ready for the future.
zappi is a smart EV charger with one difference. It can work as a standard home car charger with power from the grid. It also has an optional charging mode that can use 100% green energy you generate yourself from your own PV system or wind turbine.
Using your own power generation increases the Return On Investment (ROI) for your panels and electric car. And means you can charge your EV at home for free! zappi is easy to install and user-friendly. But don't worry, if you don't have solar panels installed, zappi still works as a standard car charger that uses power from the grid.
buy zappi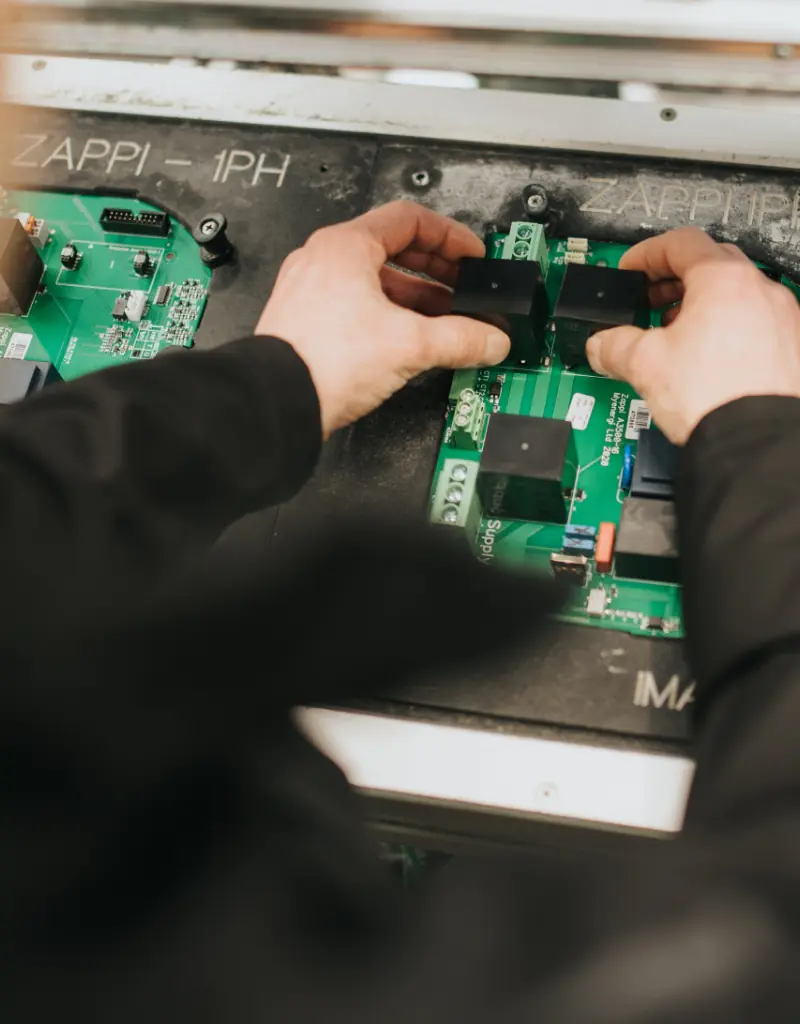 EV CHARGER DESIGNED AND MANUFACTURED IN UK
Industry leading, made in the UK
The very first solar-powered EV charger of its kind, our innovative team has carefully designed features to give you complete control over charging your electric car. Combined with the myenergi app, you can set timers to take advantage of your electricity provider's savings rates. You can also use the boost function, monitor your devices and much more! This future-proof, intelligent electric car charger was conceived, developed and manufactured in-house in the UK.
buy zappi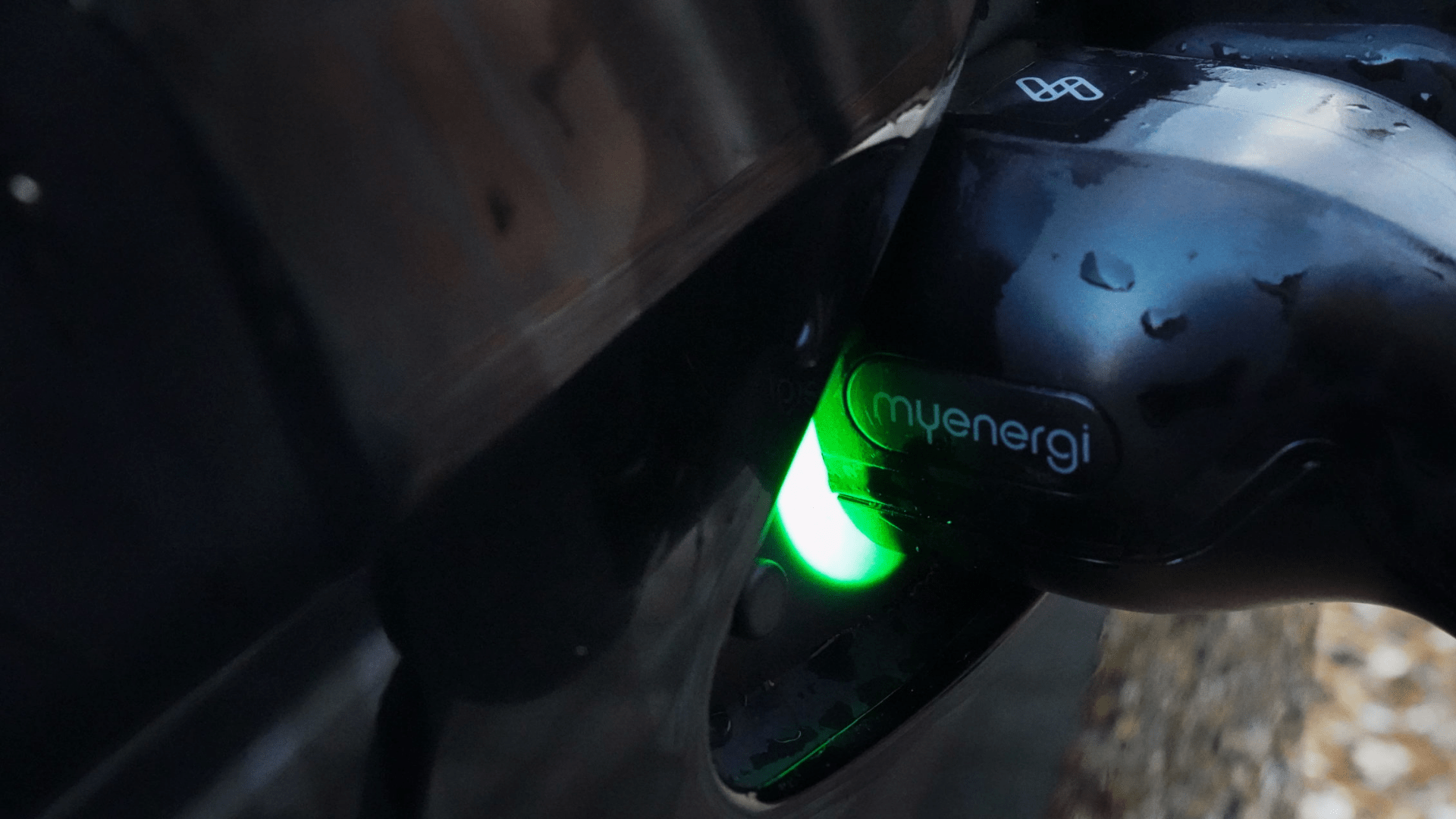 #1 solar charger
You do not need solar panels to run zappi, it can also use 100% power from the grid.
Be ready for the future with the zappi home car charger.
Three charging options
zappi offers customized charging, tailored to your lifestyle and needs. Whether you need a "quick" charge to get you on the road quickly, or you like to wait for your charge to take place using 100% renewable energy. zappi gives you the flexibility to charge on your terms.
Eco charging mode is a mix of both green energy and energy imported from the grid. Eco mode minimizes the use of grid power, generally taking advantage of cheaper rates at night, but can also charge with 100% green energy. This allows you to charge your car for free! Charging power is constantly adjusted to changes in generation or power consumption elsewhere in the home.
If the generation surplus falls below 1.4 kW, power is taken from the grid to replenish it.
eco+ charging is very similar to eco charging in that it can use power from the grid or your own energy source. However, charging power is constantly adjusted based on changes in power generation or power consumption elsewhere in the home. Charging your electric car is interrupted when too much power is input and only continues when excess free power is available.
In fast mode, your vehicle is charged with maximum power. This power can come from a renewable energy source or simply from the grid. The cost of charging an electric car also depends on many factors, including the mode and the car itself.
If you don't have solar panels or wind generation, zappi charges just like a regular mode 3 charge point.
Setting Timers
At certain hours, flexible energy rates are significantly cheaper. With zappi, you can use the "boost timer" option to start charging at times with the lowest rates. It's a cost-saving charging timer for your EV!
Flexible charging
There are several energy suppliers who provide a special contract where you pay a different rate every hour depending on the purchase price. Through an automatic link, zappi can decide for you to choose the most favorable rates by delaying or starting charging.
PV charging
zappi works in harmony with your solar panels or wind turbine, which means you can charge your car with green energy for free. If you don't have a renewable energy source at home, zappi works in "fast mode" just like any other charger.
Remote access
With the myenergi app, you can access and control your devices from anywhere in the world! Visual graphs allow you to check your import/export information in one place.
PIN protected
A 5-digit PIN code is a security feature integrated into this smart electric car charging station, should you wish to use it. It prevents people from changing your settings or using your solar EV charger without permission or tampering with it.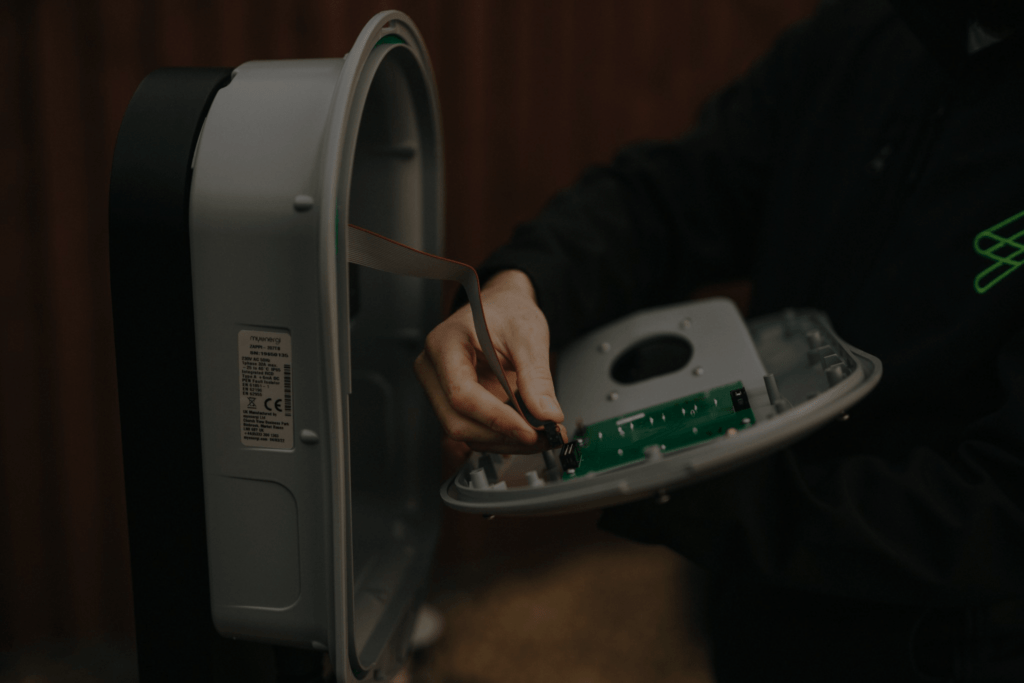 EV charger with 3-year warranty
In addition to our excellent technical support to answer all your questions, zappi also comes with a 3-year warranty. Once your myenergi zappi is installed, register your individual products to take full advantage of the 3-year warranty support.
Discover the zappi options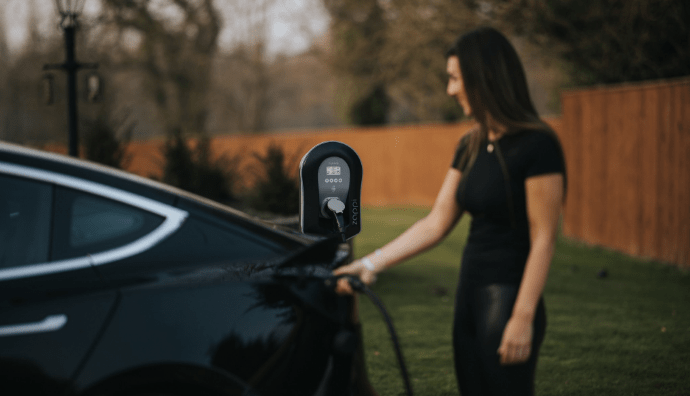 Get a grip on your own power
zappi uses your self-generated power to charge EVs
A solar EV charger allows you to use excess solar energy to power your car. To generate solar energy, you need to install solar photovoltaic panels (PV) on your home or workplace, but the energy generated by the solar panels is completely free, effectively giving you free mileage!
The sun's light energy is called photon. It is the most fundamental particle of all light. It is these photons in natural daylight that are converted into electricity by solar panels. This small beam of electromagnetic energy is constantly moving. Simply put, a solar panel works by reflecting photons, or particles of light, back to electrons, which detach them from atoms, generating a stream of electricity.
Our eco-smart technology makes intelligent decisions based on your self-generated power and the energy tariff you subscribe to. This allows your myenergi devices to be optimized to use energy from the grid at the lowest possible rate per kWh.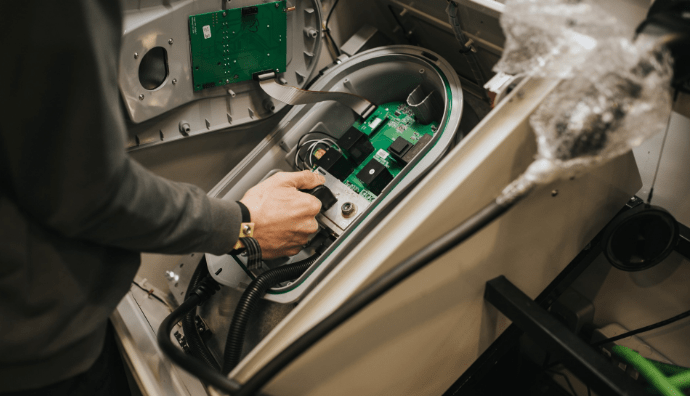 Charging your vehicle safely
All safety standards exceeded
Safety is of paramount importance. Every myenergi product is designed to the highest possible energy efficiency standards, but we place equal importance on safety.
Of course, we adhere to all industry safety standards, but we like to go a step further to always provide our installers and users with the safest possible experience. That's why we were the first to introduce the PEN fault test, ahead of all other manufacturers.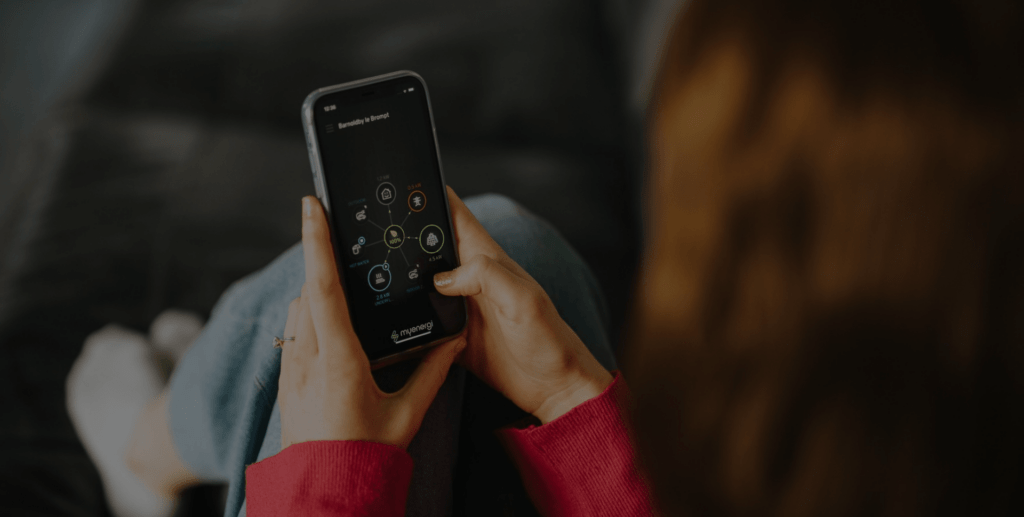 Manage & monitor your energy consumption
Every myenergi device is designed to be connected. This means that from the myenergi app, you can monitor everything in one place and adjust settings, timers and boost functions as you wish. Control your myenergi devices 24/7 from anywhere with the myenergi app.
View our EV charger FAQs
Yes, you can use your zappi EV charger to charge your car without solar power. Then it will simply take power from the grid and charge your car as with a conventional electric car charger. With the added benefit of being ready for solar charging if you purchase solar panels in the future!
After an initial investment in green technology, becoming more sustainable will save on your bills in the long run.
The time it takes to charge your EV is not so black and white and depends on several factors such as the vehicle, battery size and charger type. However, the average time to charge an EV is about 7 hours and 42 minutes, when using a standard (not fast) charger.
The time it takes to charge your EV using solar panels depends on a number of factors. For example, the number of solar panels. On average, a single panel will generate about 2kWh per day, so if you have multiple panels, the power generated will increase.
The cost of charging your EV depends on a number of factors. If you use solar panels, you can charge your EV for free! However, if you pay for an EV charger at a gas station, for example, they will set their own rate depending on the fluctuating cost of energy at the time. At home, you can usually charge more cheaply if you plug in your electric car at night, better than during the day, and you can also select different charging modes, varying the cost.