The British Motor Show is back! But it's not just any old car show – this is the first major international British Motor Show since 2008 and it has been completely re-imagined, and a guaranteed fun day out for all the family.
myenergi, pioneer of the world's first eco-smart EV charging device, has been named as the official EV charging partner of this year's British Motor Show. Come and say hello to the myenergi team at Farnborough International Expo centre. The show will feature over 30,000sqm of indoor exhibition space and 4 acres of outdoor display space, including a 2km test drive track.
Two times a day throughout the event running from 19th – 22nd August, the amazing stunt team lead by Paul Swift will wow the crowds with some amazing car gymnastics, featuring sideways and two-wheel driving, whilst another key highlight will be the supercar parade, for which a selection of the world's most unique cars will 'purrr' into the arena and make some noise!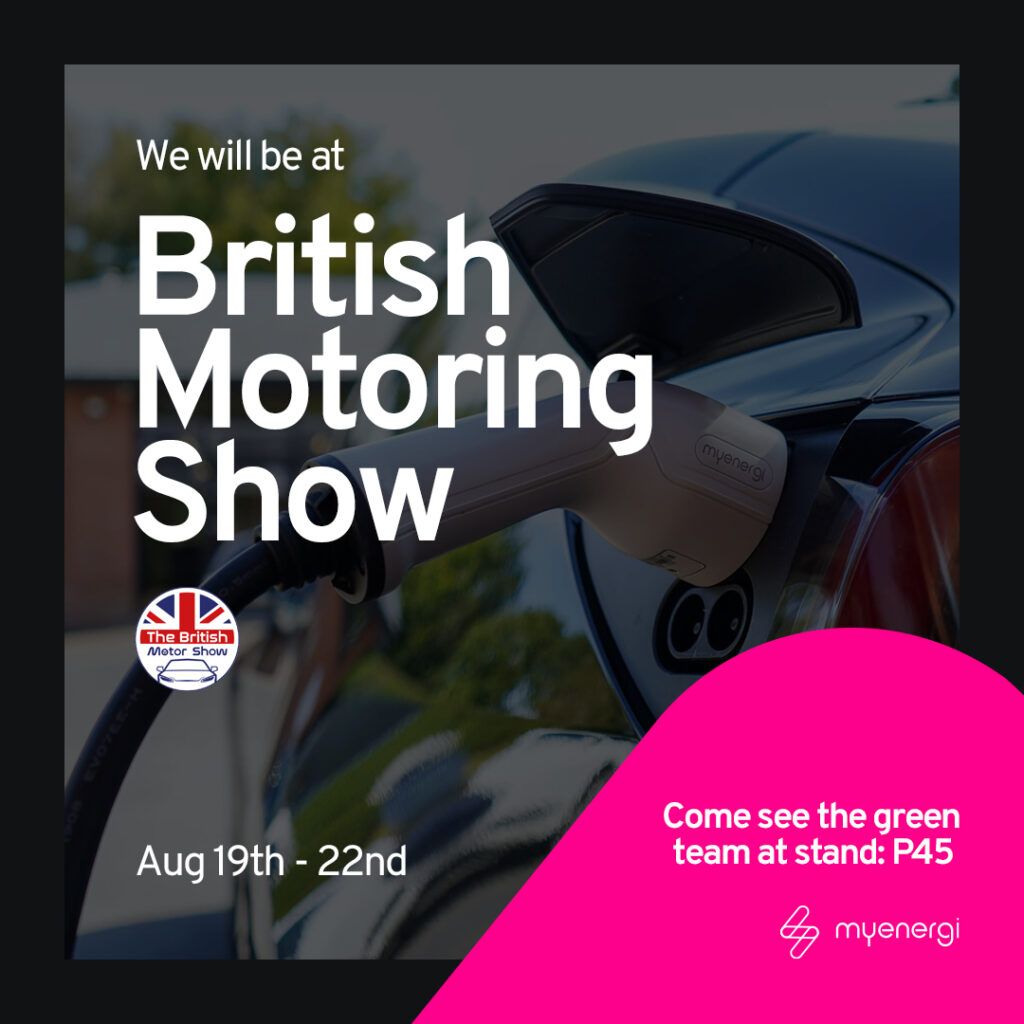 As part of the partnership, myenergi will supply 20 zappi charging devices to keep electric test drive models fully-charged throughout the four-day event. In addition, members of the team will be located on stand P45, showcasing its first-to-market range of eco-smart EV charging devices. Don't miss myenergi's guest speakers in the Theatre located in Hall 5, with hot topics on the future of EV charging such as "How to choose your charger" each day at 15:10pm and "Electric Cars & The Environment" everyday at 16:30pm
Heralded as the only event in the world to combine such a diverse range of attractions, The British Motor Show is fast becoming a must-attend show for car aficionados nationwide. Alongside having the opportunity to explore an amazing collection of vehicles, visitors will be able to get behind the wheel of the latest models, attend a number of exhilarating performances and get up close and personal with some of the motoring world's biggest celebrities.
Jordan Brompton, co-founder and CMO at myenergi, commented: "A great day out for all the family, The British Motor Show brings together everything you love about cars and puts them in one place. Combining a whole host of fun activities with an exhibition of the latest models, there's something for everyone to enjoy!
"With this year's event focusing heavily on alternative fuels, in particular through the Electric Motor Show, we wanted to show our support and ensure manufacturers could charge their test drive models with the market's most in-demand EV charger – zappi.
"A smart EV charger with a difference, zappi can function as a standard EV charger, but also has optional charging modes capable of utilising 100% green energy – the most sustainable way to power your vehicle!"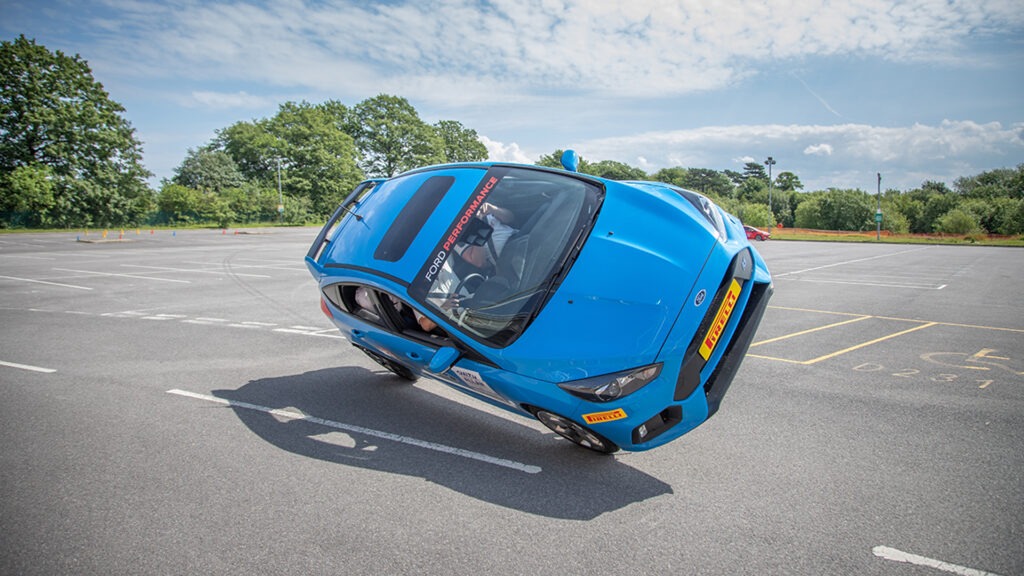 Here are 15 reasons why it's the summer day out not to be missed!
The latest and greatest cars– Over 20 of the UK's best-known automotive brands are already confirmed as exhibitors, including several vehicles that have rarely been seen in the UK before including the Maserati MC20, McLaren Artura and Ford Mustang Mach E.
Safe and Secure– The event takes place over a huge site, both indoor and outdoor, which allows plenty of space to enjoy yourself safely.  Take advantage of the COVID Guarantee on your tickets as well.
Technology– The Select Electric Motor Show will plug you in to all the latest EVs and hybrid models available, to inspire and ready you for 2030 deadline.
Test drives– It's not just about looking at the cars either, a number of selected cars will be available for you to try out and drive live at the show.
Supercars– Every motor show worth its salt needs a selection of supercars, so we'll have the latest from Aston Martin, Maserati, Mclaren and more, plus over 50 exotic and iconic supercars on display each day.
More supercars– Oh and did we mention that you will be able to get passenger rides in some of your favourite supercars at the show too, courtesy of car collectors' charity Sporting Bears?
Education– The IMI Tech Theatre will play host to several daily sessions, helping answer all your questions about the latest automotive gadgetry and electric vehicles without the jargon.
Celebrities– our live stage will be full of fun, guest interviews and quizzes, including top motoring names such as Fuzz and Tim from Car SOS, Vicki Butler Henderson and many more.
Stunts– Take a passenger ride with Paul 'Sideways Parking' Swift in his interactive stunt experience or watch him wow the crowds in the Live Arena.
Classic Cars– We love old cars as much as we love new ones, so with over 25 owners' clubs exhibiting and some special themed displays, there's bound to be something to whisk you down Memory Lane.
Kids' Stuff– with go karting, giant Scalextric and interactive activities just for the young (and young at heart), we'll also be offering basic car maintenance lessons for kids and lots of automotive-related childish fun.
Careers– thinking about working in the industry or looking for a change? Our career zone will be full of experts, recruiters, industry leaders and apprentices, chatting about the thousands of opportunities that UK Automotive has to offer.
Live Arena– Car Football, live parades, classic and supercar displays, stunts and breath-taking activities that will appeal to all the family.
Marketplace– We'll have loads of suppliers on display with the latest gifts and gadgets, from toy cars to tech gadgets, cleaning stuff to tools and equipment.
Motorsport– From grassroots and grass track to the F1 elite, we'll be showcasing the huge variety of UK motorsport including some live displays
No other Motor Show has ever delivered such a variety of content, celebrity guests and live-action.
19th – 22nd August, Farnborough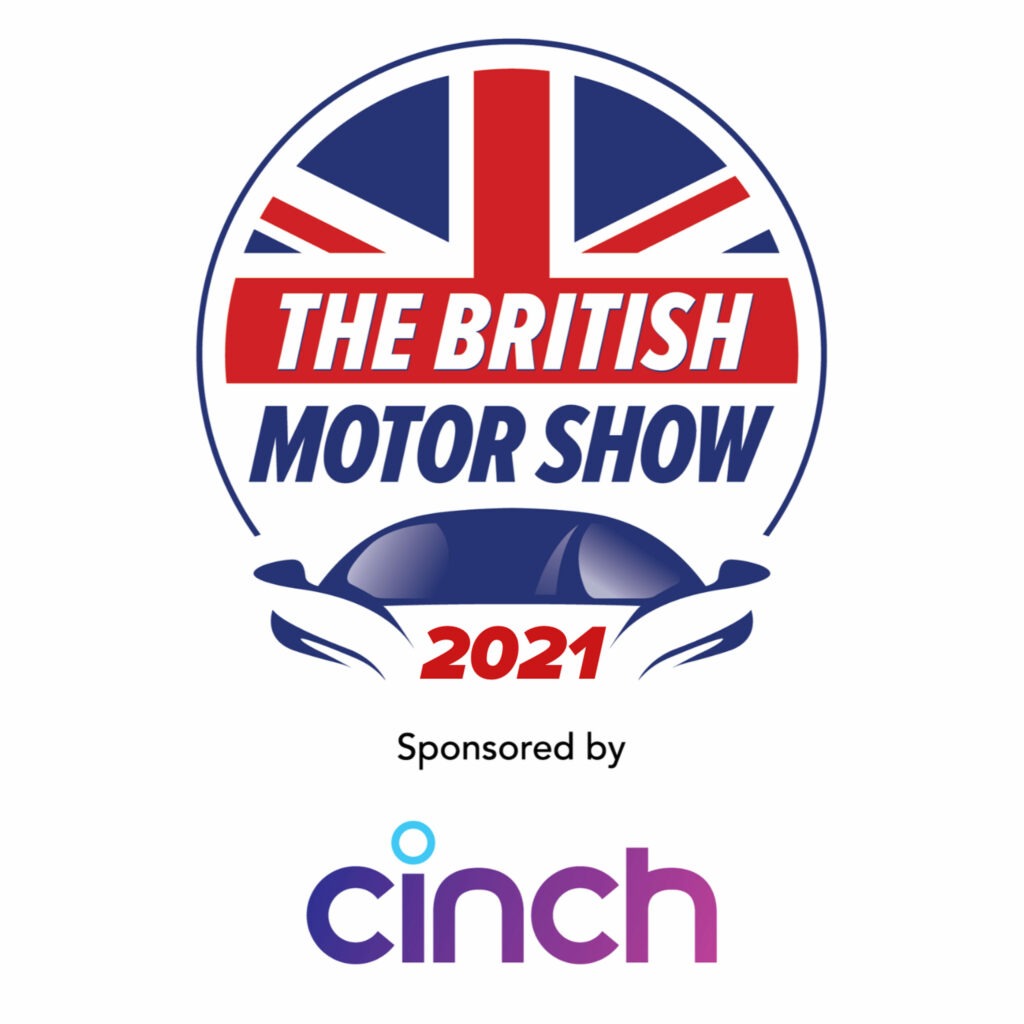 For more information about the British Motor Show, or to book your tickets, visit www.thebritishmotorshow.live. For more information about myenergi, or the eco-smart zappi EV charger, visit www.myenergi.com.