myenergi, pioneer of the world's first eco-smart EV charger, took home the double at last night's Great British Entrepreneur Awards (21 November). Alongside scooping the Scale-up Entrepreneur of the Year accolade, co-founder Jordan Brompton was also crowned the event's highly coveted Great British Entrepreneur of the Year.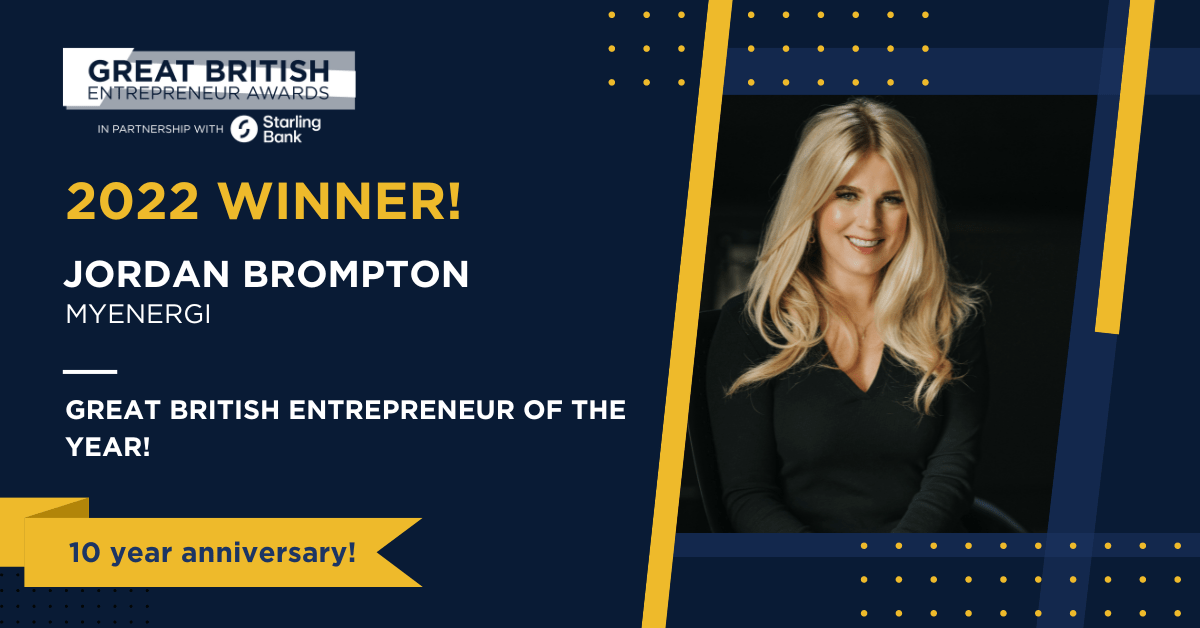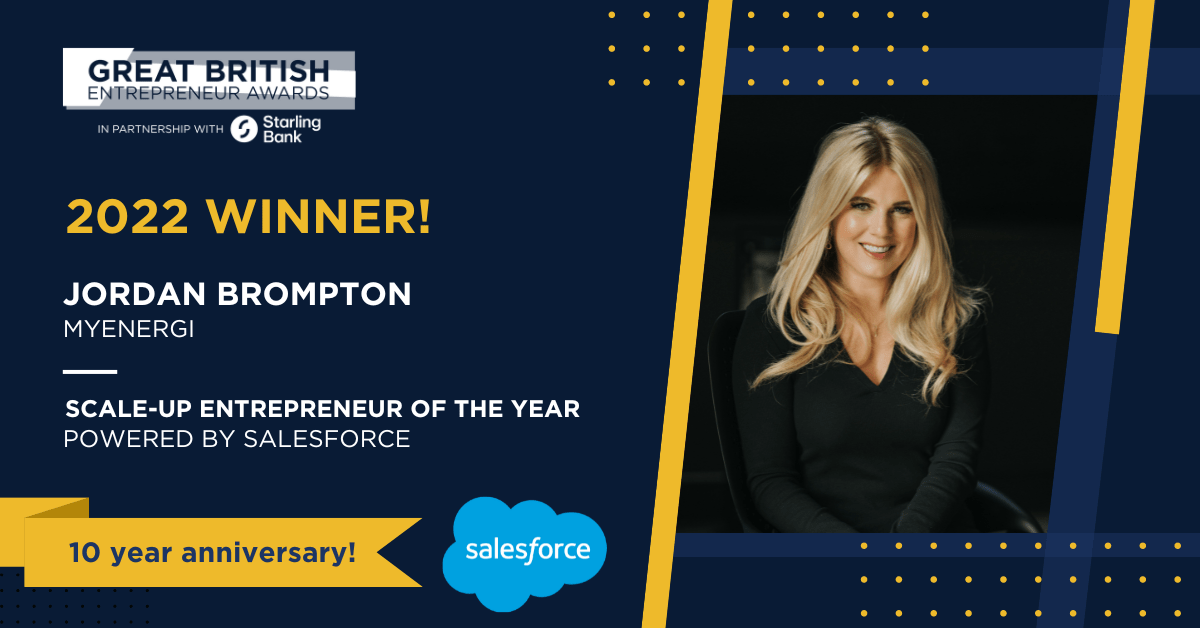 Celebrating the UK's most inspirational entrepreneurial success stories, the event shone a spotlight on exceptional talent and profiled the fast-growth firms of the future. Recognising ambition, innovative thinking and commitment to making a positive impact, the prestigious ceremony took place at The Grosvenor House Hotel in London, attracting an audience of more than 1,400.
myenergi is no stranger to fast growth, having started with just two employees in 2016 and quickly scaling to more than 400 team members. Recently shipping its 400,000th unit, the company has opened subsidiaries in Ireland, Australia and the Netherlands along the way to support its continued internationalisation.
Over the past three years, myenergi has seen an average annual growth of more than 180%, while continued investment has helped the business to expand into state-of-the-art new premises. Earlier this year, myenergi launched libbi – a game-changing battery solution that allows homeowners to store renewable energy – and was recently named as the UK's ninth fastest-growing company.
Jordan Brompton, co-founder and CMO of myenergi, commented:
"Taking home not one but two accolades at last night's Great British Entrepreneur Awards still hasn't quite sunk in! The Scale-up Entrepreneur of the Year category alone received more than 5,000 entries, so even being named as a finalist was a real dream come true.

"Taking home gold as Great British Entrepreneur of the Year is a true celebration of our extraordinary journey and testament to every single member of the myenergi team, who have each played an invaluable role in building the business we have today.

"When we founded myenergi, the vision was simple – create a positive impact, push the boundaries of possibility and change the world through pioneering green technology. From our early days of making products by hand and posting them to customers at the local Post Office, to a business that's now considered one of the world's leading renewable energy tech firms, I'm so proud of what we've collectively achieved."
Great British Entrepreneur Awards founder Francesca James said that the awards' tenth anniversary was the biggest and best yet:
"Celebrating Britain's ambitious, driven and inspirational entrepreneurs for a decade has been an honour, and we've learnt so much from hearing all of their unique stories and perspectives.

"The extraordinary circumstances of the last few years have tested the resilience of our business communities, and the challenges were enough to give many entrepreneurs an excuse to give up. Instead, our award winners did the opposite and, through ingenuity, innovation and the ability to adapt, they thrived.

"These challenges certainly haven't gone away, and the next few years will present new obstacles to overcome – but one only needed to look around the room at our tenth anniversary to see some of the truly special founders and doers, to gain confidence that this snapshot of the economy can go on and adapt again.

"We'd like to congratulate all of our 2022 winners for all of their hard work and achievements – we look forward to following your lead into 2023 and beyond!"
For more information about myenergi, or the company's pioneering range of eco-smart home energy technologies, visit www.myenergi.com.