What EVs are compatible with myenergi products?
Compatibility with EV home chargers
We're proud to make renewable energy products and an EV Home Chargers that works in harmony with a fantastic range of Electric Vehicles (EVs).
With government incentives in place (such as scrapping of the BIK tax on electric company cars) to make the UK carbon neutral by 2050, EVs are rapidly becoming the future of the transport industry.
Following the success of Tesla's range of EVs, many automakers have invested resources in the electric market. As the battery technology develops further, electric cars are only going to become more efficient and sustainable.
New, innovative charging and green technologies are making owning an electric car the most sensible, environmental and economical option for many motorists. But how do EVs interact with such tech, you ask?
Check out our guide to learn which models are compatible with our zappi, harvi and eddi.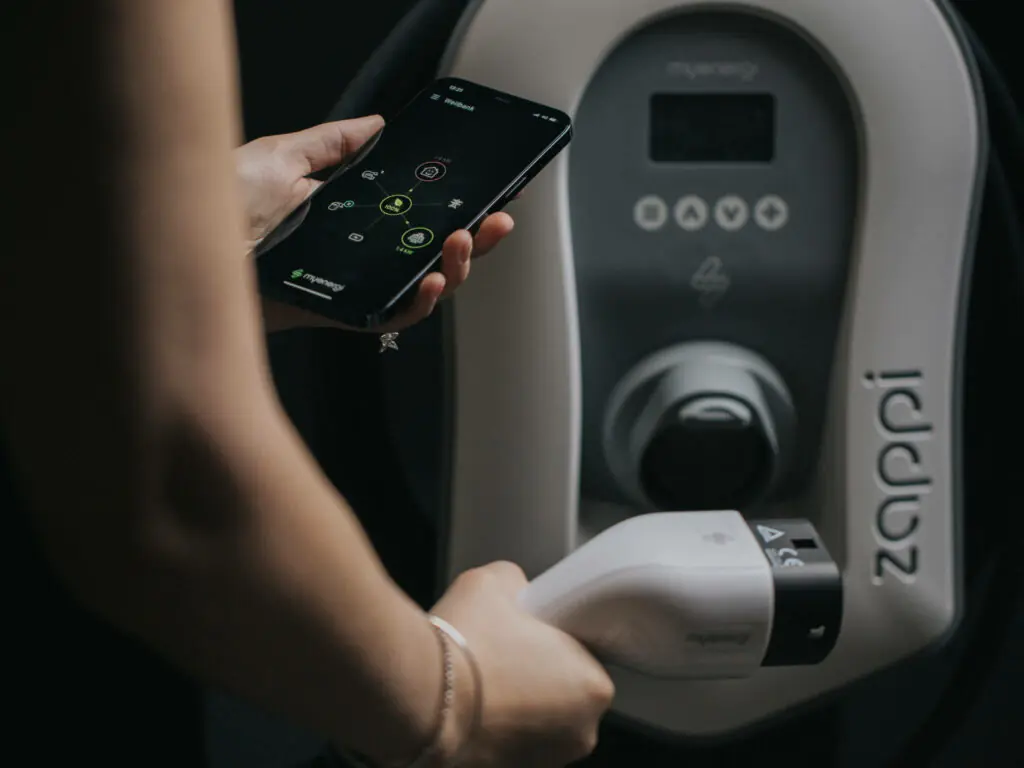 What is zappi?
zappi – the world's first solar home EV charger
Firstly, let's introduce zappi – our eco-smart EV charger. zappi's versatility means it can use electricity both from the grid and from domestic renewable sources – like wind turbines and solar photovoltaic panels.
Capable of charging your car using 100% free, renewable energy from your solar PV or wind generation, zappi puts sustainability straight into the hands of the user.
Even if you haven't got a photovoltaic system (or something similar), zappi can import electricity from the grid. If you do have a PV system, zappi gives you the ability to charge your vehicle with surplus energy that's generated from your own solar panels and wind turbines.
What EVs are compatible with zappi?
The list of zappi compatible EVs includes, but is not limited to:
Jaguar – I-PACE
Volvo – XC40 Recharge
Smart Car – the smart EQ fortwo and forfour
Tesla – the whole Tesla range, including the Model S, 3, X, Y, and CyberTruck
Audi – the e-tron range
Peugeot – the e-208 and the e-2008 SUV
Ford – the Mustang Mach-e
Mercedes Benz – The EQC
Mitsubishi – the Outlander PHEV
Mini – the Mini Electric
Land Rover – the whole Land Rover PHEV range
BMW – the full BMW i range of PHEVs
Citroen – the Citroen Electric and Plug-in Hybrid range
Volkswagen – the Volkswagen ID range
Nissan – the Nissan Leaf
Kia – the Niro range
Hyundai – Kona
Hyundai – Ionic
zappi home EV charger explained
Our zappi is for sale with two different connectors: Type 1 and Type 2. This means that almost every EV is compatible and can be loaded with zappi.
The zappi can also alter its charging strength to be compatible with your EV, and can adjust depending on grid changes to save you money.
Can zappi be used by hybrid cars?
Standard hybrid cars are similar to petrol or diesel engined vehicles. The difference is in the engine, as hybrids have a regular combustion engine and an electric motor – meaning there's no need to charge.
However, some manufacturers are creating plug-in hybrids (or PHEVs) that have more powerful batteries that can be recharged by 'plugging in' the car. The Land Rover PHEV or Mitsubishi Outlander PHEV, for instance, are plug-in hybrids compatible with our zappi charger.
Why does zappi have different charging modes?
zappi has three different types of charging mode: Fast, ECO and ECO+. These modes give you the power to decide how quickly and economically to charge your EV.
Fast charge
On Fast charge, zappi prioritises time by using energy from your renewable generator and the grid.
ECO mode
On ECO mode, zappi becomes an intelligent device that adjusts the charge rate to minimise taking energy from the grid, by only taking the energy it needs. Zappi is wired into your home's electrical switchboard, so it can sense when excess electricity is sent to the grid.
ECO+ mode
When zappi is set to ECO+ mode, it detects electricity going out to the grid and turns itself on to start charging your car, whilst also matching the charge rate with the amount of electricity currently being exported.
What EVs are compatible with other myenergi products?
Our zappi, harvi and eddi are all engineered to work in harmony together – making easy, self-consuming renewable energy a reality for everyone.
app
The myenergi app allows you to remotely control and monitor all of your myenergi devices.
Eddi
The eddi is a solar power diverter that can be used alongside grid-tied PV or wind turbine systems. It diverts excess energy from the micro-generation system to heat water or rooms, rather than exporting it back to the grid.
Harvi
The harvi is used alongside zappi and eddi, and is an energy-harvesting wireless sensor that measures how much energy is generated and how much goes to the grid.
The renewable energy dream
---
Our dream at myenergi is for everyone to have access to generating and using renewable energy-saving the planet and protecting the future for generations to come.
Our range of products is just the beginning of our journey, and we can't wait to share with you what we've got coming next!