Pulling into the myenergi APAC car park, everything looks the same as usual. The zappis are still perfectly mounted on the walls, and the orange roller door is pulled down, with its symbolic myenergi bolt on full display. 
But all is not the same because just in front of the door, breaking up the sea of orange paint is a giant white car and an even bigger smile across the face of its new owner, myenergi Technical Support Specialist Alex Levett.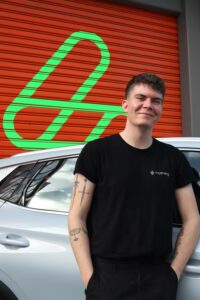 Alex has just purchased his new BYD Atto 3 with a Novated Lease. Novated leases are car agreements that involve three parties: your employer, you (the employee), and a financing company. Employers often offer novated leases as employment benefits, like staff discounts on health insurance or gift cards. 
Having worked for us since early this year, myenergi was happy to support Alex on his investment for his continued hard work. And clearly, he's pretty impressed.
The car features astound him, and he quickly begins rushing to show off his favourites, namely the sunroof, 12.8 display and lush leather white interior… let's see how long that lasts!
Alex takes the car for a spin around the local area, explaining to me that "working for a company known for being eco-friendly and having the world's best solar-smart charger, I figured that eventually, I would have to make the move to electric, and I'm really glad I did."
By granting Alex a novated lease, myenergi has helped him build his dreams; the lease will reduce the overall cost of owning a car by taking advantage of various tax deductions whilst still working as a traditional lease. 
How does a novated lease work?
Firstly, you enter into a finance lease and novation agreement, which means that your employer takes on the obligations of the lease payments and operating costs. These costs include fuel, service, maintenance, insurance, and registration, paid for through a salary sacrifice arrangement. Your employer then deducts these expenses from your pre-tax salary, which lowers your taxable income, reducing your income tax and increasing your take-home pay. Sweet, right?
The economic benefits played a big part in helping Alex decide to go electric.
"With the novated lease, the benefits were incredible; everything is included, from rego and insurance, and even down to new tyres and servicing. Plus, the free charging on-site helps!" he jests.
As we turn out of the industrial estate, the indicator rhythmically ticking away, Alex and I begin discussing how has the Electric Car Discount Bill made novated leases like his a whole lot cheaper.
"I think generally the Electric Car Discount Bill is a massive incentive to go electric regardless of whether you choose a novated lease or not, but it certainly helps," Alex tells me. As we delve deeper into what the bill meant for him he explains to me that he received $3,000 back in his pocket from a rebate when buying the Atto 3. 
So what is the Electric Car Discount Bill, and how can it save you money? 
The Electric Car Discount Bill exempts eligible electric cars from Fringe Benefits Tax (FBT). FBT is one of the biggest expenses in a novated lease, paid by employers on certain benefits provided to their employees. But now, an FBT exemption is available for electric cars first used on or after July 1st 2022 and only applies to salary sacrifice electric cars that fall below the luxury car tax threshold for fuel-efficient vehicles. 
A salary sacrifice can be a big financial concern when you're just starting in a profession, "I was a bit worried, I initially thought why would anyone do that?" Alex tells me. But after working out the numbers and that he would save a whopping $30,000 in tax throughout the lease, Alex's concerns faded away. "To be able to save money by getting a brand new 2023 car, it was a no-brainer really", he says. 
What is it like charging an EV with zappi?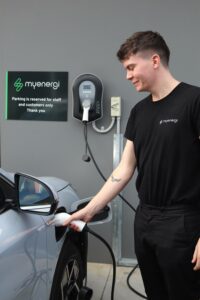 As we turn back into the myenergi APAC headquarters Alex is keen to get set up with the zappi so that he can make the most of driving on sunshine by charging the car using power for the building's PV system. He's happily beavering away now, pulling his charging cable from the car to the zappi and adjusting the buttons with ease, he's got Technical Support Specialist written all over him.
I ask Alex what it is like charging with the zappi. "So easy!" he beams, the relief from the idea of never having to go to the petrol station spreading across his face, "I rock up to work, plug the zappi in, and wait for the sun to shine."
He tells me his charging stats, showing me the zappi on the myenergi app and beaming at the ability to adjust his charger without having to leave the office. He explains to me that a full charge from 0-100% would take around 7 hours with the zappi, but since he's keeping it topped-up from day to day, he's "usually fully charged by the time I go grab a bahn-mi at lunchtime." 
"So easy! I rock up to work, plug the zappi in, and wait for the sun to shine."
As we head inside, ready to get back to work, Alex tells me of his plans for this weekend. His manager, Johnny, picks up his brand new white Polestar 2 on Saturday, "we're going to shoot off for an electric road trip somewhere this weekend!" he says with a smile.
If you're curious about novated leases at your workplace, speak to your employer to see if there's a novated lease or salary package arrangement in place. Your employer has the freedom to establish a novated lease program if they choose to do so, but ultimately it's at their discretion.